Mt Nathan Project
Details
Commenced:

01/07/2012

Submitted:

12/07/2012

Last updated:

21/08/2012

Location:

Australia
Tweet
Followers
Legend of Badges
Note: The various badges displayed in people profiles are largely honesty-based self-proclamations by the individuals themselves. There are reporting functions users can use if they know of blatant misrepresentation (for both people and projects). Legitimacy, competency and reputation for all people and projects can be evidenced and/or developed through their providing regular updates on permaculture work they're involved in, before/after photographs, etc. A spirit of objective nurturing of both people and projects through knowledge/encouragement/inspiration/resource sharing is the aim of the Worldwide Permaculture Network.
Member

A member is a permaculturist who has never taken a PDC course. These cannot become PDC teachers. Members may be novice or highly experienced permaculturists or anywhere in between. Watch their updates for evaluation.

Permaculture Matchmaker

One of these badges will show if you select your gender and the "I'm single, looking for a permaculture partner" option in your profile.

PDC

People who claim to have taken a Permaculture Design Certificate (PDC) course somewhere in the world.

PDC Verified

People who have entered an email address for the teacher of their PDC course, and have had their PDC status verified by that teacher. Watch their updates for evaluation.

PRI PDC

People who've taken a Permaculture Research Institute PDC somewhere in the world.

PDC Teacher

People who claim to teach some version of PDC somewhere in the world.

PRI Teacher

With the exception of the 'Member' who has never taken a PDC, all of the above can apply to become a PRI PDC Teacher. PRI PDC Teachers are those who the PRI recognise, through a vetting board, as determined and competent to teach the full 72-hour course as developed by Permaculture founder Bill Mollison – covering all the topics of The Designers' Manual as well as possible (i.e. not cherry picking only aspects the teacher feels most interested or competent in). Such teachers also commit to focussing on the design science, and not including subjective spiritual/metaphysical elements. The reason these items are not included in the PDC curriculum is because they are "belief" based. Permaculture Design education concerns itself with teaching good design based on strategies and techniques which are scientifically provable.

PRI PDC Teachers may be given teaching and/or consultancy offerings as they become available as the network grows.

Aid Worker

The individual with this badge is indicating they are, have, or would like to be involved in permaculture aid work. As such, the individual may or may not have permaculture aid worker experience. Watch their updates for evaluation.

Consultant

The individual with this badge is indicating they are, have, or would like to do paid permaculture design consultancy work. As such, the individual may or may not have permaculture consultancy experience. Watch their updates for evaluation.

Community Project

Community projects are projects that help develop sustainable community interaction and increase localised resiliency.
Earthworks on the bottom 40
The earthworks on the bottom 40 have been completed, it was heart in mouth all the way, as the steep incline made it quite hectic going with the machine.
My Father and I had pondered what would be the best kind of earthworks for the 'Bottom 40'. We considered 'Net and Pan', a set of small swales approx 10m apart and also a combo of both, where in between swales there would be a net and pan. As it turned out it was far too steep (43%) for any swales, the one we did make ended up near vertical at the back and front and too small in capacity. The net and pan could have worked but two problems arose; the first was that in between the net, we still had steep incline that was largely unusable and hard to access -with the rainfall and temperatures here, nature would have stacked it full of ecology in no time, and left us lagging far behind. The second was that the net part of the job would have more than doubled the cost.
We ended up closing all of the pans up to create a scale pattern- like on fish and snakes but inverse, it soaks instead of sheds.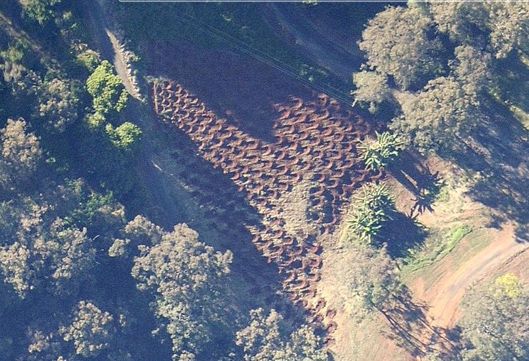 The tool we used was custom made for the job. It was an old 3 point linkage grader blade that we had cut gussets from the back to create half of a hex, and then the top was modified so the 4 in 1 bucket could pick it up- the same way it picks up a level bar.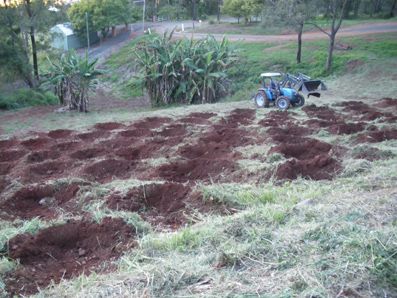 We ended up pretty happy with the result, although the machine was on the edge of it's limits with the incline- always wanting to drift sideways away from the slope, needing the bucket dropped to stop the machine tipping downhill- and it is a tractor specially designed for steep grades too!
We feel we can now plant a food forest with an annual productive groundcover that will work as a market garden until the canopy climaxes and shades out the floor. Each pan or 'scale' will be a guild containing a tree, shrubs, vines and support species of all kinds.
I can now get around on the 'Bottom 40' without skittling downhill on my bum so many times!